Three different series blend elegance with function
Woodland Park, NJ -- October 30, 2018 – FSR is a leading designer and manufacturer of power, data and audio/video solutions for the contract office furniture industry. In today's interconnected world, the workspace extends beyond the physical building, offices and boardrooms. FSR's product line of collaborative solutions are designed to address the way we work and approach business in the 21st century.
The company is introducing three product collections that effectively dissolve the physical barriers of offices and boardrooms by integrating advanced connectivity, communications and collaboration solutions into design elements for a sophisticated and practical interconnected environment.
The Symphony Collection blends elegant form with cutting-edge technology. Gently curved shapes and a streamlined design allow for unobtrusive connections to AV gear, while the attractive exterior remains faithful to the aesthetics that interior designers demand. Twelve color combinations are available to please the most discerning customers, with technical configurations that include a choice of full insert AC outlets, USB charging ports, and low voltage openings. The Symphony Line is available as: clamp on, mounted in, or mounted under a table, shelf or chair.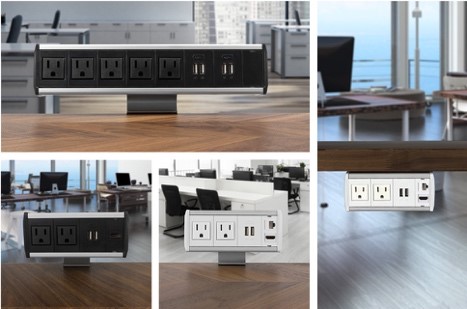 The Unity Collection provides ultimate connectivity and functionality in a variety of shapes and finishes to match any décor or need. Hideaway doors provide easy access to USB charging ports, AC outlets, touch control panels for AV equipment, and a full line of insert brackets and cable retractors for effortless connectivity. Choose between square, rectangular, or dual rectangular boxes. Available in a black, silver, or white powder coated finish.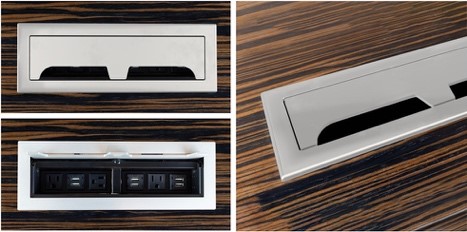 The Harmony Collection adds style to any conference table with round or square covers, and finishes that include black anodized, clear anodized aluminum or brushed brass. Covers can be closed while in use for a sleek, clean look with milled openings for convenient cable connectivity. The Harmony boxes feature AC outlets, USB charging ports, cable retractors, gravity feed cable pulls and FSR's Intelligent Plate and Simple Solutions for a wide variety of interconnect solutions to satisfy virtually any AV interface application.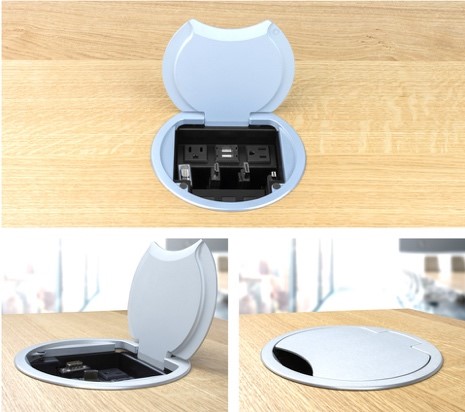 For more information: www.fsrinc.com, or This email address is being protected from spambots. You need JavaScript enabled to view it.
About FSR
FSR, established in 1981, manufactures a wide variety of signal management and infrastructure solutions for the AV/IT, Information and Communication Technologies (ICT), corporate, education, hospitality, government, and religious markets, including floor, wall, table, and ceiling connectivity boxes and wireways, as well as a full line of interfaces, distribution amplifiers, matrix switchers, seamless scaling switchers and HDBaseT signal delivery solutions. FSR offers live 24/7 technical and sales support throughout the country from expertly trained technicians and sales representatives. The Company is also an HDBaseT Alliance Adopter Member. For more information: www.fsrinc.com.
FSR Contact: Jan Sandri
973-785-4347 • This email address is being protected from spambots. You need JavaScript enabled to view it.
Press Contact: Desert Moon Communications • Harriet Diener
845-512-8283 • This email address is being protected from spambots. You need JavaScript enabled to view it.This email address is being protected from spambots. You need JavaScript enabled to view it.