New Jersey-based manufacturer honors the spirit of America's Independence Day with new tradition of community support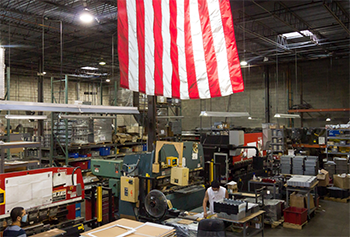 Woodland Park, NJ – July 3, 2020 – FSR, a leading manufacturer of a wide variety of infrastructure solution products for the audio/video, Information and Communications Technologies (ICT), education, corporate, hospitality, and government markets, is marking Independence Day by initiating a new tradition of community support. The New Jersey-based company will be donating to two local food banks to help those feeling the pinch of hardship during this time of elevated need, and according to FSR President, Jan Sandri, they will continue the tradition annually going forward.
"Celebrating our Independence Day will be different this year for every American and so it's an appropriate time to launch a new FSR tradition," said Sandri. "I contacted our two local Food Pantries run by St. Agnes Church and the United Method Church that cover Little Falls, Woodland Park and Totowa, NJ, and asked what we could do to help. We were happy to comply with a donation to each organization and will continue this new tradition as our way of honoring the spirit of the 4th of July, a day that signifies coming together not only as a community but as a country."
Sandri emphasized that we should appreciate what we do have, not dwell on what will be missing this year. "Let's enjoy our family and friends in small gatherings while we celebrate our freedom, military, essential workers and being kind. We also want to take this opportunity to thank our friends, customers and colleagues for their friendship and support. We are grateful for each and every one of you."
About FSR
FSR, established in 1981, manufactures a wide variety of signal management and infrastructure solutions for the AV/IT, Information and Communication Technologies (ICT), corporate, education, hospitality, government, and religious markets, including floor, wall, table, and ceiling connectivity boxes and wireways, as well as a full line of interfaces, distribution amplifiers, matrix switchers, seamless scaling switchers and HDBaseT signal delivery solutions. FSR offers live 24/7 technical and sales support throughout the country from expertly trained technicians and sales representatives. The Company is also an HDBaseT Alliance Adopter Member. For more information: www.fsrinc.com.
FSR Contact: Jan Sandri
973-785-4347 • This email address is being protected from spambots. You need JavaScript enabled to view it.
Press Contact: Desert Moon Communications • Harriet Diener
845-512-8283 • This email address is being protected from spambots. You need JavaScript enabled to view it.This email address is being protected from spambots. You need JavaScript enabled to view it.