Fewer Cables? Apple Fans Say "Yes, Please"
on Monday, 18 September 2017.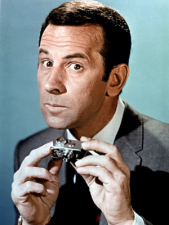 Just a few days ago, Apple announced the specs for its new iPhone 8 and anniversary edition iPhone X devices. Apple's product announcements are typically highly anticipated, with many speculating about new features and technological advancements months before the formal release. This year's event, however, seemed to have a grander, more excited energy swirling about it. The iPhone X (the ten year iPhone anniversary edition) was purported to have technology embedded that even Maxwell Smart couldn't fathom. [Yup, I just totally impressed my Baby Boomer colleagues with that one]
Well, the official announcement, as mentioned, happened a few days ago. But the energy surrounding it hasn't subsided. All you have to do is find any publication, website, supposed apple addict on twitter and you'll find someone talking about it- Face ID. This facial recognition software allows a used to unlock his/her phone by simply looking at it. The 3D image processing is smart, meaning "the Bionic chip controls a Neural engine which handles up to 600 billion operations per second so it can "learn" when a user is wearing sunglasses, a hat or even grows a beard."
I admit, even for a non-apple junkie- this is exciting, interesting and a bit creepy. But what was really an exclamation point in this whole spec reveal was that both the iPhone 8 and the iPhone X will be QI (wireless) charging compatible. Why? Well, walk into most schools or onto any college campus and you immediately realize that the clear majority of students carry Apple products. In fact, one study I read claimed that about 80% of college students use Apple products on campus (whether it is an iPhone, laptop, watch or iPad).
In 2013 students brought an average of 2.5 devices to campus. In 2015 that average increased to 2.7 devices. And it continues to grow. An unofficial and totally unscientific observational survey conducted by yours truly also found a staggering trend. Most schools do not have enough charging locations for student devices. That's why this wireless charging announcement is a big deal.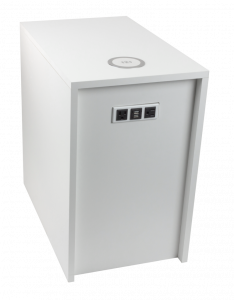 Wireless charging is non-invasive, inexpensive and easily able to be retro-fitted into existing spaces. Wireless charging used to simply be a "wow factor" addition to cafes (like Starbucks) and public spaces. Now, it will likely become a common addition to most buildings. Students will demand access to wireless charging (leaving the extra cable at home does sound pretty attractive) not only in libraries, cafes, lobbies and meeting spaces, but also classrooms, conference rooms and dorms!
FSR has two wireless charging options (that adhere to the Qi standard). Available in two sizes and three finishes, the Huddle Blox charging cubes can fit any space and décor. Charging is a challenge wherever you go- this cube doubles as a workspace and makes charging accessible and discreet. Check out the details here. The second is our new wireless charging coaster. These coasters wirelessly charge any standard "QI" enabled device. They can be installed into almost any table, desk, bar- and come in black and white.
Given this announcement from Apple, is your campus likely to consider the addition of wireless charging? Do you have any concerns about this news?