Four Components Create A Whole System
The Smart-Way raceway is a floor and wall-based power and data distribution system designed to fit today's working environments.
Our raceway system is simple to configure, ADA-Compliant and adds architectural appeal to any space.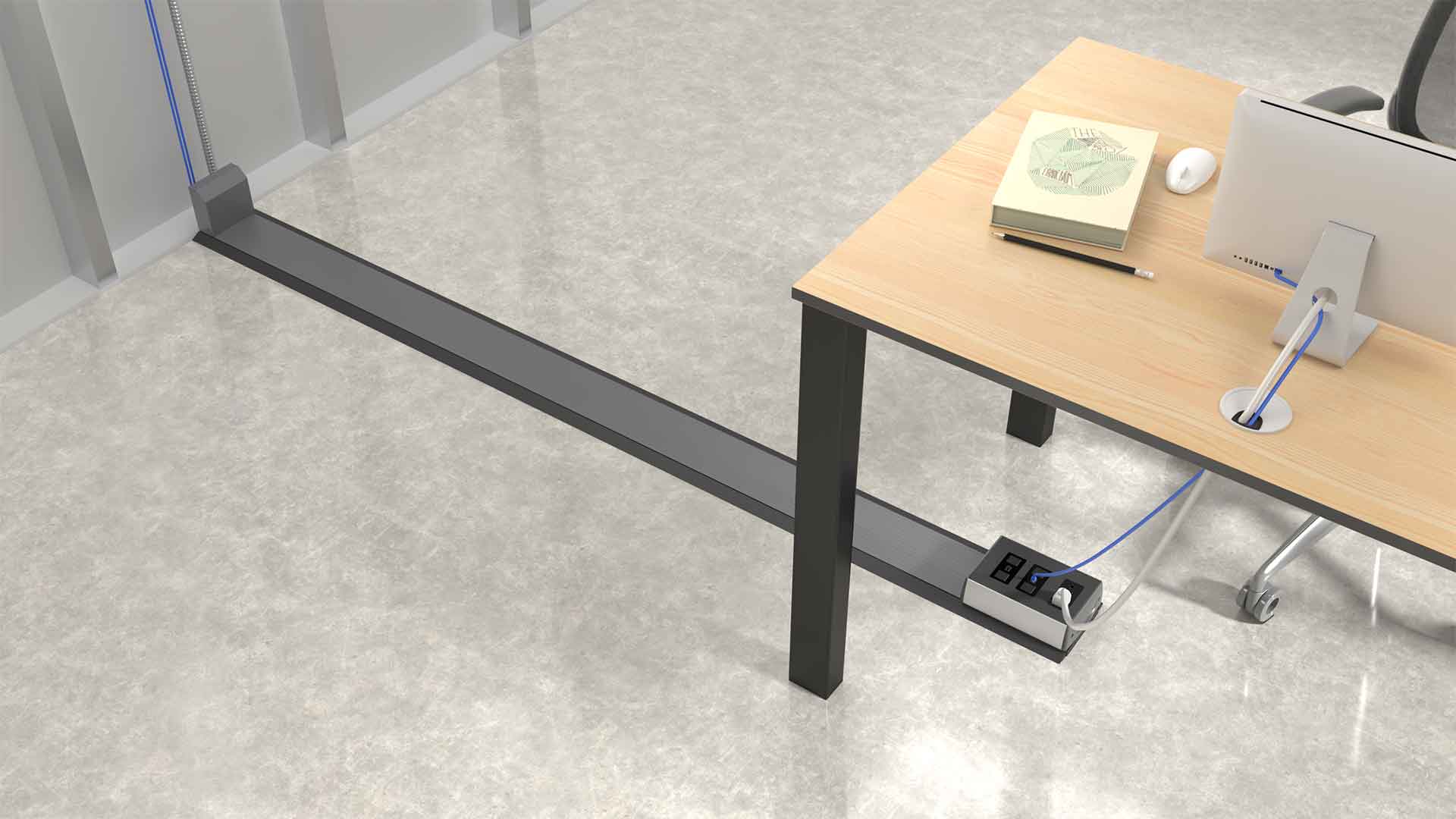 In-feed

The in-feed component transitions wires and cables from the building into the raceway. We offer many solutions allowing you to feed the raceway from walls, ceiling, and poke thrus. These components are available in slate gray or aluminum. The in-feed options are designed with your architectural aesthetic in mind.

Raceway

The Smart-Way Raceway includes two edging styles, which allows it to be installed in any flooring situation. The in-floor edging is used to install the raceway in all floors (carpet, wood, tile, laminate), while the on-floor provides an ADA-compliant ramp for vinyl carpet, and wood floors.

Device Box

The Smart-Way system device boxes offer the connectivity of power and/or data in a stylish multi-color finish. We have many device box options to choose from to fit your application needs.

End Stop

The end stop provides a simple method to terminate each endpiont.

In-feed Options

Smart-Way in-feed options provide baseboard entry, ceiling entry, or poke-thru entry in concrete floors.

Smart-Way Configuration

Smart-Way is available in slate or aluminum, ADA-Compliant, and is provided in 6', 3', 2', and 1' lengths. Every raceway is supplied with both on-floor and in-floor edgings. Optional edging styles include no protruding and covered sides for using the raceway on the wall. The raceway's capacity allows for 6 power circuits and 6 to 26 data cables. A data-only raceway typically accommodates 10 data cables. Raceways can be paralleled to increase capacity using hte no protrucing edging.

The Perfect Fit

The Smart-Way fitting options allow for 45 or 90-degree turns using the corner fitting. Corners can also be nested up to three, giving you the capacity for running more power and data. The Tee fitting allows cables to be run in both directions to the desired location. All raceways and fittings come with on-floor and in-floor edging.

Power and Data Your Way

The Smart-Way system offers various device box options to fit today's working environments. You can choose from 2-gang bloxes for power, data, power and data, or hard-wired. Both 3-gang and 4-gang device boxes are available with a mix of power and data openings. Smart-Way International device boxes provide mounts for sockets to fit your country's needs. The end-stop is required at the end of every raceway.