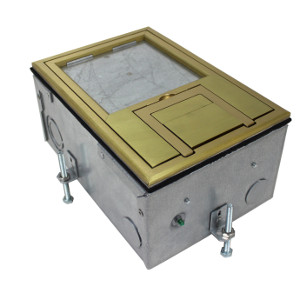 FSR offers products for the pro AV industry that run the gamut of those types of offerings that might not come to mind first (like displays or loudspeakers) but always come to mind somewhere during the design and installation process.
We're talking things like wall and floor boxes, matrix switchers, power products, table boxes, ceiling enclosures and much more.
During InfoComm 2015 in Orlando, Fla., FSR is commemorating its 35th anniversary, having been founded by Jan Sandri, Bill Fitzsimmons and Charles Rodriquez "to answer the need for quality and cost-effective control modules and metal integration products," according to the company.
FSR added to that legacy with an impressive amount of product introductions during the annual tradeshow (not to mention a champagne and cake celebration at its booth). Sandri, company president, took the time give CI readers the lowdown on what to expect in the ways of new product highlights.
For the various new product introductions, what are 2-3 feature highlights that will help increase integrators' efficiencies?
Sandri: With the addition of the new products that FSR is launching at InfoComm this year we are continuing with our company's mantra of 'Infrastructure Solutions From The Ground Up.' Our latest Project Wall Boxes, Ceiling Boxes, Floor Boxes, Table Boxes, and Collaboration Furniture Solutions help integrators in dealing with 'the last mile' on how to get their cables from Points A, B, and C to multiple locations with ease of installation and seamless blending with the clients environment and décor.
The HDBaseT 100 Meter 5-Play Extenders and Wall Plates deliver HD Video, Audio, Bi-Directional Control (IR & RS-232), PoE (802.11af) Tx to Rx or Rx to Tx, and Ethernet via 1 Cat-6A Cable cutting down on installation time and costs as well. With FSR's current offering of FLEX Control Devices and West Penn HDBaseT Certified cables we now make it even easier for integrators to purchase complete systems on one purchase order from one vendor who's highly trained sales and technical support teams help to ensure the products suit their needs.
What are some marketplace trends FSR is addressing with the new products? Anything technologically specific to particular verticals (e.g. the corporate market, large venues, houses of worship, etc) that FSR has paid particular attention to?
Sandri: Three of the families of products we are adding models to this year directly address changes we see in the marketplace. Our new Mini-Vu HuddleVU tables were designed for some educational and corporate clients who needed smaller 2-to-4 user collaboration/huddle areas that they are building in their facilities. Our new 2 x 1 Digital Video Switchers, the DV-HSW-21A and the DV-MFSW-21A were expressly designed to work in this application with our T3 HuddleVU table boxes as well.
Houses of Worship (HOW) has been a market that FSR has been extensively involved with for over a decade since we originally launched the Omni and Compass scaling switchers. With the introduction of the DV-MFSS-71 7 x 1 Multi-Format Scaling Switcher and the DV-MFMV-74 MultiVU – 7 x 1 seamless scaling switcher with windowing FSR now has switchers that can be easily be integrated into existing systems or designed into new solutions where the Church may have multiple inputs from multiple sources and resolutions but need the highest resolution possible at an economical price.
What are some examples of customer feedback on previous-generation products that FSR has used to implement/tweak the new products?
Sandri: If there is one thing FSR is known for in its 35 years it is our ability to listen. Our worldwide sales team is in constant contact with consultants, designers, and architects around the world to assist in the design and specification of all of our infrastructure products. But what sets FSR apart is that we also listen to and work with the installers and technicians who install and operate our devices. We actively look at the feedback we receive from the field on our products and work with our design and production teams on how we can make all of our products even better.
Recently we had a large nationwide design integrator contact us about our T6 table box line. They loved all of the bracketry, connector, and retractor options the box offered but some of their installers and service techs were noticing that the mounting screws used to mount the box underneath the table were occasionally difficult to install in a hurry. Our design team had several conference calls with the techs and installers to get their feedback and issues. The solutions that were developed changed the types of screws used and made it so they could be easily installed with the existing tools most service and installation techs have available. These changes were not just added to the existing T6 line but are now integrated on our smaller T3 line and all of our new table box and table chargers going forward.
What are the biggest takeaways visitors to FSR's booth will get from InfoComm (aside from cake)?
Sandri: The biggest takeaway we hope our visitors get from our booth this year is one word - infrastructure. FSR should be your first stop for all of your infrastructure needs. From our custom HuddleVU Collaboration Systems and Furniture solutions to our fire-resistant floor and wall box kits we truly have you covered from the ground up.
Click for Photos of FSR Products at InfoComm 2015
Original article - http://www.commercialintegrator.com/article/fsr_celebrates_35th_anniversary_with_slew_of_new_products_at_infocomm_2015?utm_source=CIWeekly&utm_medium=email&utm_campaign=content#