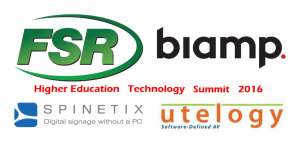 To our attendees: Thank you for helping to make our first Higher Education Technology Summit a success. We realize this time of year is exceptionally busy and appreciate your taking the time to attend! We hope that you were able to take away some valuable information from the sponsor sessions and the technology manager panel discussion.
We'd like to offer our sincere appreciation to the panelists, Elaine Mello, Tim O'Neil and Mike Lucas, and the moderator, Margot Douaihy, for the excellent information during the technology manager panel discussion.
To future attendees: We are in the process of planning additional HETS in different regions throughout the US. If you are interested in hosting or attending a HETS event, please let me know!
If you want to know more, here's some great coverage of our event from our friends at HigherEd Tech Decisions. If you'd like to request a copy of the program of events, please contact me in the comments below!