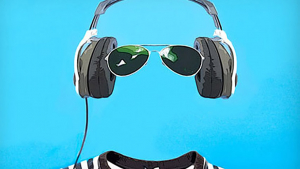 We've heard it before- and it won't be going away any time soon- one of the biggest challenges in AV right now is finding enough trained help to fill the need. One of the reasons for this is that most high school or college age students don't think about AV when they consider continuing their education and/ or training in the technology industry. AV has expanded beyond push carts and overhead projectors- to the point where most of today's student won't even know what that means. Modern classroom AV is installed technology. It is seamless in the room and is becoming an integral part of daily learning and lessons. So students don't even have to think about it.
Has AV become invisible?
If it works properly, AV can amaze. But the reason it amazes is not because of the "audiovisual technology." It's because it simplifies, stuns, complicates, clarifies, assists, coordinates….it just does. AV has become an integral ingredient in a recipe for learning, experiences, and communication. If left out (like yeast) one will have a "flat" or unremarkable experience. Often, if asked to pick out what made an experience amazing or flat (or anywhere in between), the respondent will answer "technology." But as I wrote in last month's post, this all encompassing word doesn't necessary include the specifics of AV in its definition.
So maybe AV is invisible?
If this is the case, how do we, as an industry, grow our talent pool if people don't know what AV is? Ask the people you work with: How did they get into the industry? You'll hear a lot of "I just fell into it" (or the other common response of "I am a starving musician.")
Well, our industry associations are stepping up to the plate (LOVE baseball analogies) with a couple of great initiatives:
The NSCA has developed a program called Ignite which will educate high school and college aged students about the "cool factor" of AV in an effort to lead them to consider training in the industry. It also "arms integration firms and consultants with marketing and promotional materials that can be used at job fairs and shared with students and young professionals considering a move to the commercial technology industry." For more information about Ignite, and to get involved, check out the NSCA Ignite page.
InfoComm International also have a plan to bring attention to the AV industry. They are working with integrators and schools to develop college courses for training in the audiovisual field. With one success story under their belt, they are prepared to continue reaching out to schools to help create a "more educated workforce" in the future.
Neither of these organizations can do it on their own. They rely on their members to be the real force behind these programs. If you can, if you need trained and educated help for your understaffed team, if you love to teach, if you want to mentor, if AV is a passion for you, get involved! Help us to make AV visible. It's time to get LOUD!