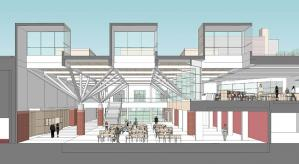 The NY Metro area Society of Marketing Professional Services (SMPS) recently coordinated a panel discussion called "Higher Education Builds To The Future." They invited three campus and facility planners/ managers from prominent private NYC universities, including New York University, Fordham University and The New School, to discuss new building construction, building renovations and technology installations that they are working on to attract new and retain existing students. While the morning conversation was very helpful for the architects, engineers, designers and consultants who were present, I think that some of the information I came back with is also interesting to technology managers and facilities managers across the country.
It is worthwhile to note the challenges that other colleges and universities are experiencing and how they navigate those challenges. Being able to share information and possibly generalize those ideas to help you develop a solution to similar problems is valuable. It is also one of the reasons why peer-to-peer events such as (my very favorite) CCUMC conference and its frequently utilized list-serve are so popular and continue to offer consistently worthwhile content and communication. It isn't about manufacturers or service providers telling you what challenges [they think] you have and how they can help solve them- it is about those IN YOUR POSITION explaining and showing how they are finding solutions to these challenges that they are faced with daily.
Here are some things that stood out to me as important ideas from this SMPS event:
Security is a key stakeholder in ALL building considerations. Now this may sound obvious, but according to the panel this was not necessarily the case ten years ago. While campus wide student, faculty and staff security has always been a priority, the level at which security has a voice in building construction and renovation has increased. Since many security functions (like MNEC) can be rolled into the technology world, all stakeholders must be consulted. That includes AV, IT, facilities and security in all renos, upgrades or new builds.
Libraries are no longer housing books- I had written about this a bit in my previous post here. Books are largely digitized now or offered through rental/ buy services that will deliver the requested book to your doorstep in 2-3 days. In fact, the facilities manager at The New School in NYC stated that 90% of the library's holdings are digitally accessible. This means that they are finding other uses for the libraries. Right now, NYU says the library space is only holding special collections. Colleges and universities are increasingly turning these underutilized large buildings into multi-use real estate. Meaning that they become group study spaces or co-working space, viewing areas, quiet study spaces, makerspaces and flex spaces. The biggest challenge of these transformations…the acoustics.
Schools invest money in pieces that offer the greatest return. In other words, residential facilities are big revenue generators so they are generally given priority for building. No surprise here.
A common way to begin developing plans for upcoming projects is to read about recently completed projects at other schools. These published case studies are used to collect ideas for cutting edge renovations, synergistic architecture or efficient and technologically advanced new builds. Many of the panelists mentioned that when choosing architects and contractors, the marketing materials, portfolio, interview and existing relationship with the school were highly important. One of the biggest turn-offs? When a potential contractor says "I have never been on your campus." They need to know the culture of the school in order to work there.
A lot of what is going on in locations with limited room for expansion is called "adaptive re-use." This means claiming under-used or not at all used buildings and renovating them for a new purpose. Sometimes this re-purposing actually allows for greater risk taking and implements more progressive ideas and trends than ground up building. Some examples of adaptive re-use projects include reconstructing closed malls into residence halls and classrooms, renovating defunct hotels into mix-use buildings and creating a winery tasting room out of an old horse stable (Ok this one is not education related but I went to a vineyard out east on Long Island and it was an amazing transformation). Adaptive re-use projects are typically not inexpensive, as much of the skin of the structure is retained (which will require rehabbing) and the inside is gutted.
I thank my friend, Meredith Lovejoy, from SM&W for inviting me to this SMPS panel discussion. As I attend more in the future, I will be sure to share insights and opinions from experts of some of the industries (trade and professional services) that work in close synergy with ours. Do you have any insights to share about your renovation or building projects?