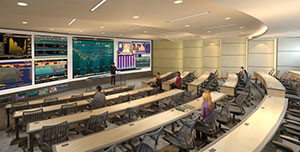 Lecture capture system implementation has been growing over the past decade in both Higher Ed and K-12. Designing the right system with the appropriate equipment can be daunting for IT and AV tech managers. Like most new projects, one must begin by meeting with the department faculty and administration to ascertain what will be the ultimate goal for the material.
There are a number of reasons schools utilize this type of technology (some offering new revenue streams). Lecture capture is ideal for live-streaming e-learning and online/ distance courses. It can also be archived for viewing for flipped and blended learning paradigms or for continuity of learning plans (i.e. snow days or extended sick leave). Either way, with lecture capture the traditional learning experience is altered and typically enhanced.
Lecture capture technology allows flexible access to instructor based learning resources. Many schools offer a number of different recording locations and options to accommodate different teacher preferences and school budgets. Depending on the magnitude of the customized solution, lecture capture can:
record the instructor's video and/or audio
incorporate any visual aids
integrate presentations
embed movies and annotations
The technology necessary for lecture capture can range from simplistic to broad, again depending upon the goals, instructor needs and space and budgetary allocations. There are an assortment of options varying from PC and MAC based software to appliances some of which can be incorporated into your existing classroom technology infrastructure. Equipment like web or video cameras and mics or headsets are typically used too. Now think about where will the content be posted, who will post it and how will it be posted? Understanding if your infrastructure requirements must change to accommodate the new technologies, burdens on the network and equipment are a priority.
You know better than most that you must consider that many instructors are using mobile devices for their course content, can be less tech savvy than their students, and don't like to be distracted by or challenged by classroom technology. Whatever the reason for initiating a lecture capture program within your school, we'd like to hear your experiences. What are you using? What are your challenges? What are your infrastructure requirements? Can FSR help…