Snow Day: Considering e-Learning in Your Schools?
on Wednesday, 28 January 2015.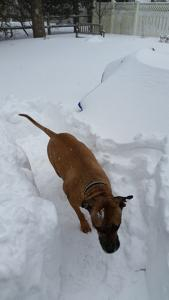 Following a disruptive snow storm in the North East this week, students across the region (especially Long Island and New England) are home sledding, playing video games, drinking hot chocolate and doing everything but thinking about school. Many schools, however, are implementing continuity of learning plans that may require students to "attend class" during snow/ inclement weather days and extended sick leaves. I hear students all over the country groaning.
As AV, IT and infrastructure support professionals, there are some fundamental technology considerations when designing an e-learning program:
-- What is the overall school's definition of and requirements for e-learning? Will students have to log into a platform for 5 hours of collaboration and video conferencing? Will they retrieve independent study materials from the school site and simply submit the project via email? Will it be a combination of independent work and collaborative activities? Teachers and administrators may have to develop lesson plans, lectures, and projects in advance for remote learning (their buy in for this is paramount to successful e-learning programs).
-- Does the school's technology infrastructure support the previously defined continuity of learning program? Does it have the bandwidth and supporting software to be able to allow for downloadable content, videoconferencing/ Skype sessions, lecture capture and retrieval and digital communications?
-- Do you know the technological demographic of your student body and educators? What percentage of students and teachers have internet access at home? How many have home computers or tablets or is there a 1:1 roll-out for your school?
-- Are there any special technology requirements for disabled students or students under IEP?
-- There will be tech related questions, and someone has to field those questions. Will you set up a technology support hotline during school hours that can route to your IT staff (maybe that's you)?
These are just some of the technology related questions that must be answered before designing and implementing a continuity of learning or e-learning program. While it may seem like a challenge with all the planning and forethought that has to go into this, access to this type of learning will create more flexibility within schools, provide required classroom hours during inclement weather and will minimize changes to the school calendar. One thing's for sure, if I were a student, I'd sure miss those snow days.