Is This Part of the Future AV "Experience?"
on Wednesday, 17 August 2016.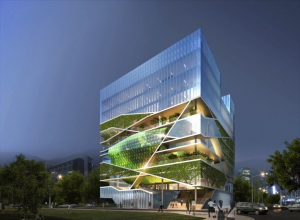 The AV/IT Technology Leadership Summit developed by the team at AV Technology Magazine took place at the Affinia Hotel in NYC last week. This two day event was completely free (even hotel and meals) for qualifying attendees. To be qualified to attend you had to be an AV, event technology or IT manager, designer, CIO, CTO or magician in healthcare, legal, corporate/ enterprise, house of worship and education markets.
During the two days, guests listened to experts discuss a variety of topics relevant to today's (and tomorrow's) AV and IT professionals. One of the most common trends that seemed to weave through almost all of the conversations was that of AV/IT roles in the world of facilities. Beginning with Mark Valenti's (CEO of technology consulting firm, The Sextant Group) keynote on day 1 and in some way touching almost every panel discussion after that, the extent to which OUR technology is currently and, moving forward, can be incorporated into the building, campus and beyond garnered much attention. Panelists and audience alike shared a variety of questions, comments and opinions about building and campus control, utilities, user experiences and departmental liabilities.
Being smart (and deliberate) when designing building infrastructure for power, AV and IT, (see FSR's floor boxes), is just the tip of the iceberg. It even goes beyond occupancy sensors, controlled shades, and shutdown commands. When a building lives and breathes, provides information about its health and use, supports commerce and conversation, offers analytics to justify changes and enhance productivity and more, seamlessly, the "holistic building" concept is beginning to take shape.
While this whole building approach is still being defined, some important ideas to know are:
According to Valenti, the 2030 challenge clearly states that all new construction in the US will be carbon neutral but 2030. This cannot happen without "us." Currently, non-residential buildings in the US consume 40-48% of total energy use.
AV and IT convergence is over, but the AV/IT and Security/Facilities convergence is underway (but can we find a new word to describe it?). Valenti predicts that in the next 5-10 years, the facilities departments will report to the CIO. In fact, to bring it one step further, security, facilities, AV, IT ALL have to be educated and buy in, in order for the holistic building control approach to work. Security and facilities are a little behind. Our opportunity: AV is inherently tied to facilities, and our value goes up if we can step up to the plate.
Valenti calls bandwidth the "4th utility." New buildings can't be designed without a proper "nervous system." Networks will be gigabit networks. Zigbee web-type networks will become more common as they are robust and redundant.
According to WBDG, holistic buildings require an "integrated design approach" AND an "integrated team process." Now, the biggest hurdle to intelligent building/ holistic control is the concept of, "Who owns this?" AV and IT understand the critical elements to control, transport, interface and reliability.
During his keynote, Valenti confirmed that there is not a "master systems integrator" (one who can design, install, and maintain ALL pieces of the smart building) in the market, YET. But there will be. Those experts are the future of "our" technologists, our companies, and our jobs. Consumer markets are driving the expectations of technologies in the workplace, schools, hospitals, etc. Perhaps when an individual can say, "my office building works like my car/ house/ phone" the expectations for the next AV experience, the seamless building, are close to being met.