6 Tips to Encourage Adoption of Virtual Reality in Your School
on Wednesday, 31 May 2017.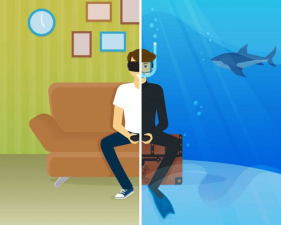 The technology behind Virtual Reality is coming into its own. Students are becoming increasingly more familiar with a maturing VR through video games and inexpensive (read: accessible) tech like Google Cardboard. Now, as interest increases, many educators want to know how VR can be useful as a learning tool in the classroom.
VR as a means to promote collaboration and teamwork– allow students to problem-solve in safe and secure (and unique) environments. VR gives teachers an opportunity to engage students in any type of situation from paleontology digs to courtrooms to boardrooms and in space. Not only will students learn how to work as a team in real-life (or not so real) circumstances, but these opportunities can help promote work-force readiness in a similar manner as in-field experience.
VR gamifies curriculum– A hot trend in education now is gamification of course material. The benefits are becoming clear- increased interaction, increased engagement equals a direct correlation to retention and comprehension. Gamifying content through VR allows otherwise theoretical concepts to be manipulated into [virtually] practical knowledge. Gamification can also harness competitive personalities in a motivating and productive way.
VR for safety– Complex and potentially hazardous concepts can be staged, risk-free in VR worlds. VR can safely simulate high-stress, dangerous situations in a way that allows students to experience success and failure. Think security, chemistry, medicine, aerospace, nuclear, etc. Even teachers-in-training can use VR to learn how to address situations in classrooms like bullying, extreme personal safety hazards and medical emergencies.
VR offers insight into the past– And not only the past, but also the presently far-away. Imagine not just reading about history but being IN history; not just seeing a documentary about sea-life decline but being surrounded by it. Immersion in places and periods creates what we can almost consider positive "trauma," which allows students to remember, understand and empathize.
VR to bridge divides– Speaking of empathy, using VR as a tool in distance learning allows students from different parts of town, or different parts of the world to interact in a manner that is more immersive than a video-conference. It can help promote understanding of different cultures, traditions and even colloquialism.
Creating VR– Finally, but certainly no less important, students can learn to PROGRAM VR worlds, and content. Programming will be (and already is) a highly valuable skill. Many schools offer fundamental programming to students as young as 8 years old. Allowing students to learn to program VR content results in new VR worlds, interactions and educational opportunities as well as a fluency in coding language.
Understanding the many reasons to incorporate VR into curriculum from k-12 to higher education and training centers to corporations is imperative to team buy-in. But there are other questions that require answers: What implications do VR technologies have on the physical environment? What space considerations have to be made? Is special furniture (or no furniture) necessary? Share your insight below and let us know how VR is working on your campus or in your school!