FSR is proud to announce the much anticipated return of our Compass Presentation Switcher with the introduction of our new Compass 3.0 Presentation Switcher Family.
With 8 models to choose from, the Compass 3.0 Presentation switcher Family are multi-format presentaion switchers with fully integrated proprietary Ultra 4K image processng technology. Depending on the application, units are available in video only or video and audio switching versions.
A variety of video inputs available:
2x HDMI 4K
1x HDMI HD
1x DisplayPort 4K
1x VGA Analog
1x HDBaseT 4K
2x 3G-SDI (Optional depending on model)
1x Genlock
7x Line level stereo audio via 3.5mm jack
1x Line level stereo audio via 2xRCA
2x microphone input with 48V Phantom Power
Video outputs:
1x HDMI 4K via HDMI connector
1x DVI/HDMI via DVI connector
1x HDBaseT 4K (optional depending on model)
1x 3G-SDI (optional depending on model)
1x S/PDIF digital audio via RCA
1x Loudspeaker connector, 2x15w RMS
1x Line level balanced stereo
Also depending on the model there is an optional two 3G -SDI and 1 HDBaset input as well.
Units ordered with 3G-SDI offer full Gen-Lock and Source Lock for in-camera & broadcast applications. The Compass 3.0 switchers offers support 4K UHD resolutions (3840 x 2160p/4096 x 2160p) in 4:2:0 format; audio de-embedded from HDMI, displayPort and 3G-SDI inputs, and is re-embedded onto HDMI outputs, and multiple outputs for local monitoring of a live output feed.
The Compass 3.0 Presentation switcher family also offers units with optional stereo analog audio inputs and outputs with audio-follow-video capability. There are 2 microphone inputs with phantom power available and internal mixer for talk-over. The internal power amplifier provides 2x15W RMS to directly drive loudspeakers in meeting rooms and smaller conference rooms, plus line level balanced stereo outputs to drive external amplifier or powered loudspeakers.
Features:
Perfect scaling with Ultra low-latency 4K best-in-class proprietary
UltraFast proprietary typical 0.25 seconds input channel switching technology
Front panel jog-wheel and LCD display for fast easy set-up in the field
Brightness, Contrast, Saturation controls for all source types
Flexible Aspect Ratio Conversion
Applications: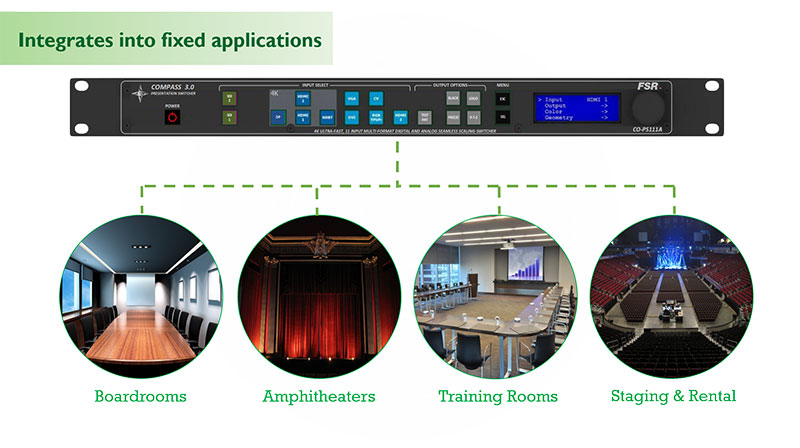 Give our inside sales a call 1-800-332-3771 for more information or to order a unit for your next project.