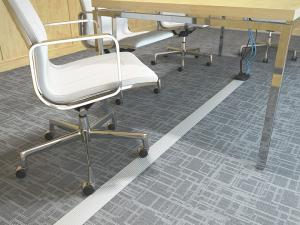 FSR+Connectrac In-Carpet Wireway is almost seamless.
The new FSR+Connectrac On-Floor and In-Carpet Wireway systems are the best alternatives for open space connectivity when aesthetics, flexibility and value are important. Both the on-floor and in-carpet options install quickly and are extremely durable and low profile. These wireways offer a wide array of power/AV/telecom connectivity options, are pre-wired for speedy installation and are ADA compliant. On wall wireway and wall/ floor transitions are also available!
Click here for more information. Or for a demo, pricing or accessories, please contact us!
In-Carpet Wireway Features
-- Low-profile, durable extruded aluminum wireway
-- Moisture-resistant MDF floor transition ramps
-- Multitude of power and telecom/AV options
-- Pre-wired power components speed installation
-- Removable wireway top cap makes changing cables simple
-- Multiple finishes available
-- ADA compliant
On-Floor Wireway Features
-- Low-profile, durable extruded aluminum wireway
-- Installs directly on top of any type of flooring
-- Multitude of power and telecom / AV options
-- Pre-wired power components speed installation
-- Durable, clear anodized aluminum finish
-- ADA compliant