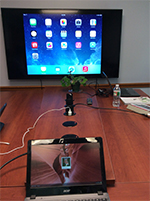 Collaboration and active learning aren't just buzz words to educators. They are clearly the keys to successful student engagement. In fact a study published on pnas.org indicates that "failure rates under traditional lecturing increase by 55% over the rates observed under active learning." This is impressive evidence that investing in active learning pedagogy and supporting technologies can affect student performance. Beyond that, collaboration strengthens community bonds, socialization, communication and trust among team members. Unfortunately, one of the biggest obstacles to the expansion of collaboration and small group work spaces in K-12 is budget. Creating an outline of the type of collaborative learning space needed for the environment will help manage precious time and eliminate costly errors due to overbuying or buying inappropriate equipment.
1) Portable or fixed installation- Do you have allocated space in the library, oversized classroom, computer lab? What are the intended uses for the space? Will the space be occupied by modular flex desks or fixed tables?
2) Durability- No questions here- you need durable equipment that will stand up to high use and the inquisitiveness of children. Put the sleek, sexy equipment down, it probably isn't right for your school.
3) Reliability and network- This basically breaks down to determining if you should consider wireless or hard wired equipment. The arguments have been made for both from a technology standpoint, but now think about your individual district's network, security and policies.
4) Power, connections and devices- Where will the power have to go? What type of connections will you need? Will you have to support multiple types of equipment and/ or operating systems- is this a BYOD or school issued devices only scenario?
5) Intuitiveness and training- How much time do you have to train the teachers and students on how to use the new space? Will you be able to write a manual or do you want it to be plug and play ready?
6) Support- For when things don't work. Inevitably this happens. What type of trained staff do you have for technology support? Will there be lengthy downtime for collaboration rooms if equipment goes down?
Having a firm idea of the intended use of the space, the district's policies for security and BYOD, the layout of the room and the level of technological savvy your educators possess are some of the first steps to efficiently and effectively designing a small group or collaborative work space.